Cuddly Battleship Kattywampus'
KonnichiWa!  Cuddly Battleship Kattywampus here...
This site will soon be the home of my many tributes to the stars of animation.
Especially those who do not get the recognition they deserve...the "underdogs", so to speak.
I'd like to take a moment to welcome you here. Also, "HI" to the knucklehead from WVSC!
I know I'm in need of an update, so I'll be fixing this place up soon enough.
Please donate art for the galleries! They're getting lonely!
There's plenty of ways for you send your artwork to me.  (Notice the ICQ panel?)
Well, until I get the new stuff posted,
ENJOY WHAT IS HERE!
---
Choose your path:
Finally! A link to (most of) my MIDI collection!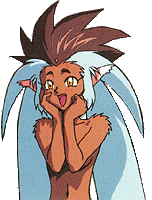 Furry star of "Tenchi Muyo!"

More soon!  Please visit again!
1999 Cuddly Battleship Kattywampus.
Pikachu, Pokemon, and related names are copyrights owned by Nintendo.
Ryo-Oh-Ki and Ryoko are owned by Pioneer/AIC.
Sign My Guestbook!!
View My Guestbook

This site is powered by the IrCQ-Net Chat Panel © 1999 ICQ Inc. All Rights Reserved.
Use of the IrCQ-Net Chat Panel is subject to the Terms of Service
if you don't know how to use this panel(I don't either!), my ICQ # is 20193772.

This page was NOT made on a Mac. If you know me, then you know why!!
Ooops!--> 


..I suggest you get a working copy of Netscape to view these pages properly!
---
Please, support my sponsors and causes!