Miles "Tails" Prower's Music Section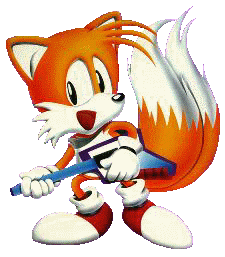 Sonic MIDIS for your listening pleasure!
I have included the names of the sequencers to give credit where it is due! However, if I left you off or if you know who sequenced the
ones without names, please contact me!
Sonic The Hedgehog Saturday Morning Cartoon theme - by ?
Chao Race (Remix) - by Cuddly Battleship Kattywampus
Tornado Scramble (v 1.5) - by Jarel Jones
Emerald Coast 1: Azure Blue Sky - by Mårten Brüggemann
Tails' Plane - by Max
Hilltop Zone - by John Weeks
Chemical Plant Zone* - by Mike
Radical City - by Jarel Jones
Sad Ending Music from Sonic 2 - by ?
*Note: The Chemical Plant Zone is the 2nd board from Sonic 2, not Institute, WV!!
-Katty